If you want to greatly reduce the present workload
Tokyu Corporate Housing Management's work proxy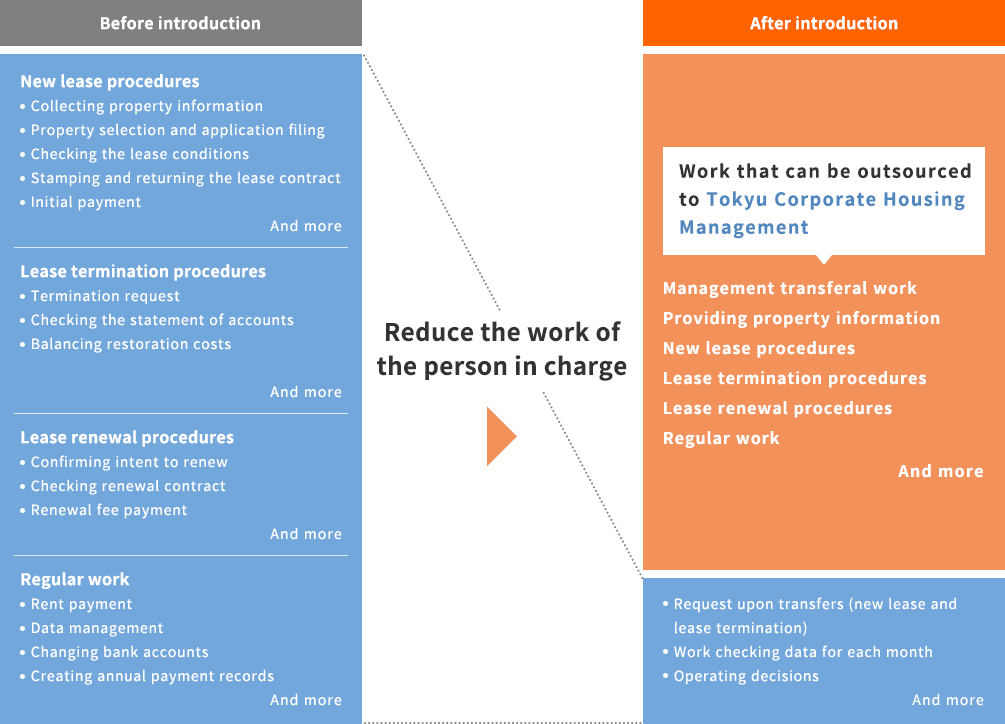 Reduce the workload of those in charge of corporate housing
by approximately 80%
If the number of high quality properties and speed of response are important
Tokyu Corporate Housing Management's property information
| Company-by-company | Searching for a property on your own | Method of introducing a property |
| --- | --- | --- |
| Tokyu Corporate Management | You can search for a property on your own | Introduces properties from a wealth of affiliated real estate firms |
| Outsourcer with their own company's brokers | You can't search for a property on your own | Introduce primarily their own firm's properties. Only properties that will generate a broker's commission. |
| | | |
| --- | --- | --- |
| Company-by-company | Tokyu Corporate Management | Outsourcer with their own company's brokers |
| Searching for a property on your own | You can search for a property on your own | You can't search for a property on your own |
| Method of introducing a property | Introduces properties from a wealth of affiliated real estate firms | Introduce primarily their own firm's properties. Only properties that will generate a broker's commission. |
Flexible response even during peak transfer season!
Strong possibility of shortage of properties in peak transfer season
With your employee's requests and circumstances in mind, we request information from affiliated real estate firms that can introduce properties meeting the desired specifications.
Speed of response
A speedy response through the combined might of our network of affiliates means the property information you request might be provided as early as that same day.
Property search request
Introduction request
Property information can be provided as early as the day of the request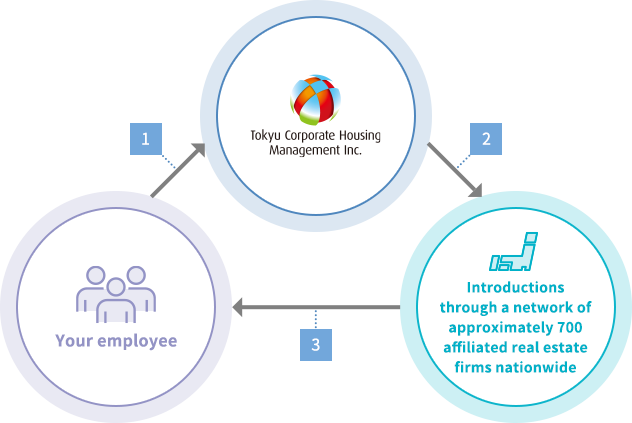 If rapid digital transformation is vital to your online work
Accelerate digital transformation through Tokyu Corporate Housing Management
Web management system makes paperless applications a reality
This service takes care of the 3 bottlenecks when transferring: not enough time, too far, and it costs too much.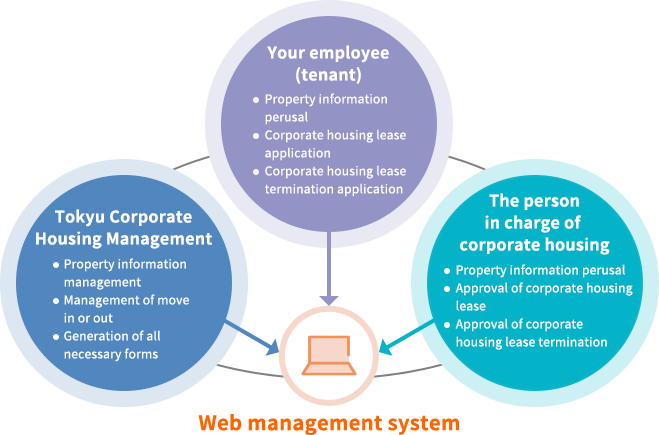 If you need a comprehensive response that supports you even through the process of moving in
Tokyu Corporate Housing Management's support structure
Support for process of moving in
Working smoothly with affiliated real estate firms well-versed in corporate housing leases, we support your employees in moving at ease.
Naturally, we respond to your inquiries and confirm your requirements, and if by some chance there is trouble with accommodations, we will contact our affiliated real estate firms and respond swiftly.
We can introduce properties that avoid any property management companies that have been trouble in the past.
In the suburbs, we can introduce many properties managed by affiliated real estate firms, and you can count on our support after you move in.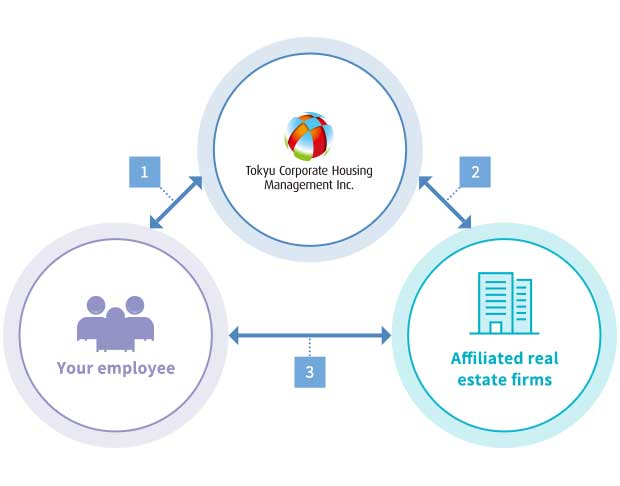 Peace of mind that continues from the time you move in until you move out
At Tokyu Corporate Housing Management, you are supported by a wealth of experience and accomplishments from the time you move in until you move out.
We will get in touch with our affiliated real estate firms and quickly introduce properties that meets the specifications.
We will draw up a lease, avoiding any property management companies that have been trouble in the past.
In the suburbs, we can introduce many properties managed by affiliated real estate firms, and you can count on our support after you move in.。